The use of cannabis and hemp derived products is gaining a lot of popularity in the world of medicine – human and veterinary. However, is it safe to use CBD oil for dogs in India? Is there enough research to show the benefits of CBD supplements for dogs and the side effects of CBD in veterinary medicine? 
Let's find out!
What is CBD? 
CBD stands for cannabidiol. It is a natural compound found in cannabis and related plants, such as hemp. CBD is commonly found in the form of highly purified CBD oil in the Indian market. CBD oil for dogs in India is gaining steady popularity as an alternative therapy for chronic pain, nausea, cancer and behaviour issues. 
Since CBD is extracted from hemp plants, it has no psychoactive effects unlike THC (tetrahydrocannabinol). CBD oil for dogs allegedly has multiple medical properties. 
Each dog possesses cannabinoid receptors in the muscles, intestines and CNS that bind cannabidiol (CBD) molecules. 
When a dog consumes CBD in oil form, the molecules predominantly adhere to receptors situated in the intestines. Subsequently, these receptors transmit signals across various systems within the dog's physiology.
How is CBD Different from Cannabis?
Cannabis has around 80 cannabinoid compounds that are found in almost every species of cannabis plants or marijuana. These 80 molecules include both CBD and THC.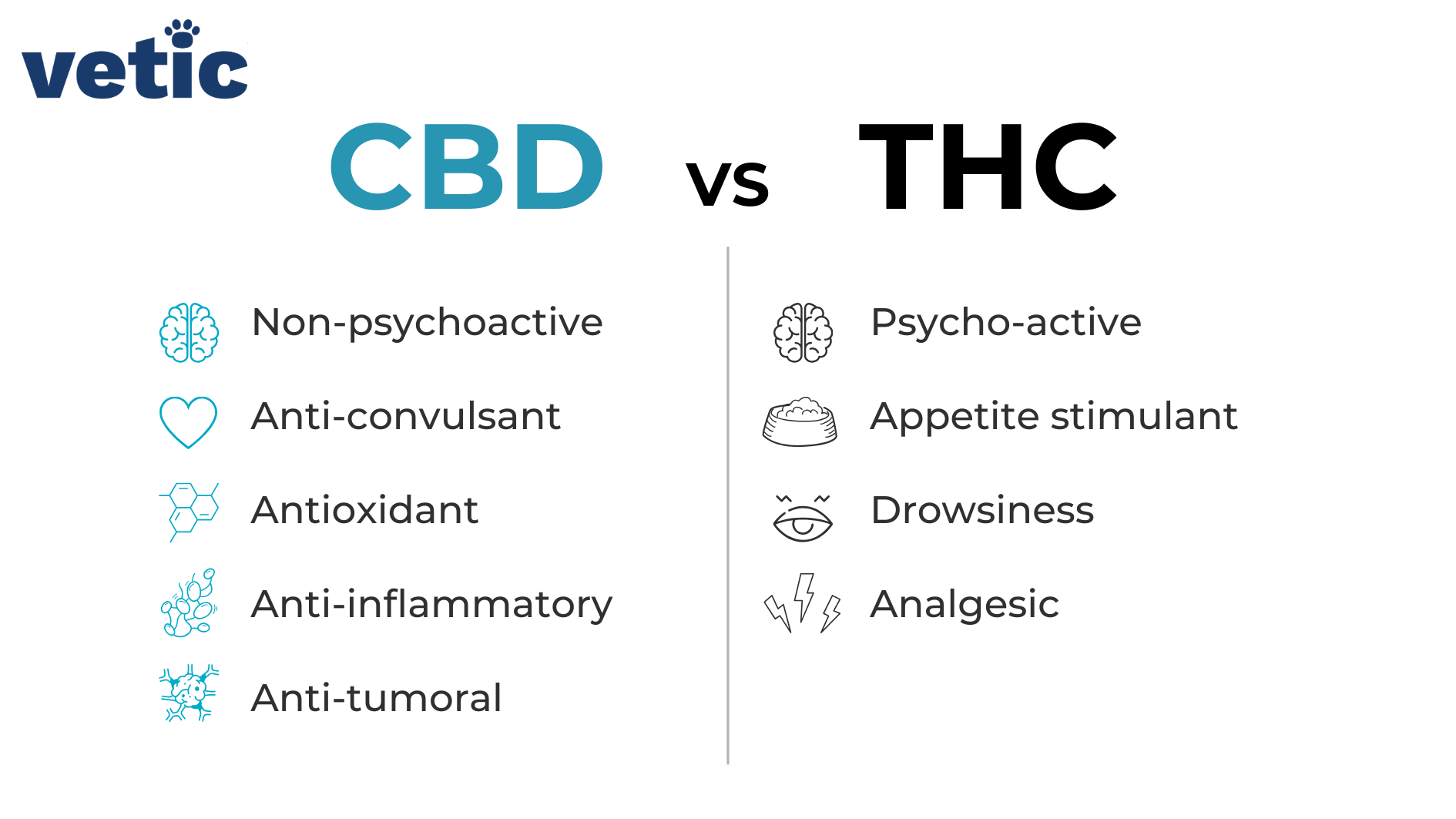 CBD has no hallucinogenic properties, but THC is psychoactive. Hence, the consumption of marijuana gives the feeling of a "high." However, CBD has zero psychoactive properties, so taking pure CBD oil causes no hallucinations or feelings of "high."
CBD is a pure molecule that is extracted from marijuana or cannabis after multiple stages of purification. 
Can You Give CBD Supplements or CBD Oil to Your Dog in India?
CBD oil for dogs in India is entirely legal. You may even be able to find other formulations of the supplement but oil is more popular.
Today, several variants of ready-to-consume CBD are available in the market for dogs. However, there is no conclusive evidence that CBD is safe for dogs in the long run. 
Sadly, there aren't enough studies to show the safe dose, highest dose or maximum duration of CBD treatment for dogs. There are some studies that show the benefits of CBD in dogs. Nonetheless, these studies do not talk about a standard dose for the different conditions. 
Like all medicines, CBD oil for dogs has its pros and cons. If you think you are ready to try CBD oil for your dog, you need to consult your veterinarian.
What are Some Potential Benefits of CBD Oil for Dogs?
Over the years, several studies have shown that CBD oil for dogs can treat multiple conditions. Published studies include the use of CBD for treatments of chronic diseases and disorders in dogs.
Some of the diseases and disorders CBD oil for dogs can treat include –
CBD supplements, such as CBD oil, have multiple medicinal properties. However, you have to be careful about the doses and interactions with other medications. So, talk to your vet before starting CBD supplements. 
What is CBD Toxicity in Dogs?
CBD toxicity in dogs is a small but undeniable threat. CBD may have multiple side effects depending on how much your dog takes and what other medications they have been taking. 
Toxicosis from CBD is not very common unless the dog has consumed a very large amount of CBD supplements or oil. 
Does CBD Oil for Dogs have Side Effects?
CBD supplements can affect the enzymes secreted by the liver. These enzymes play a crucial role in the metabolism of multiple medicines.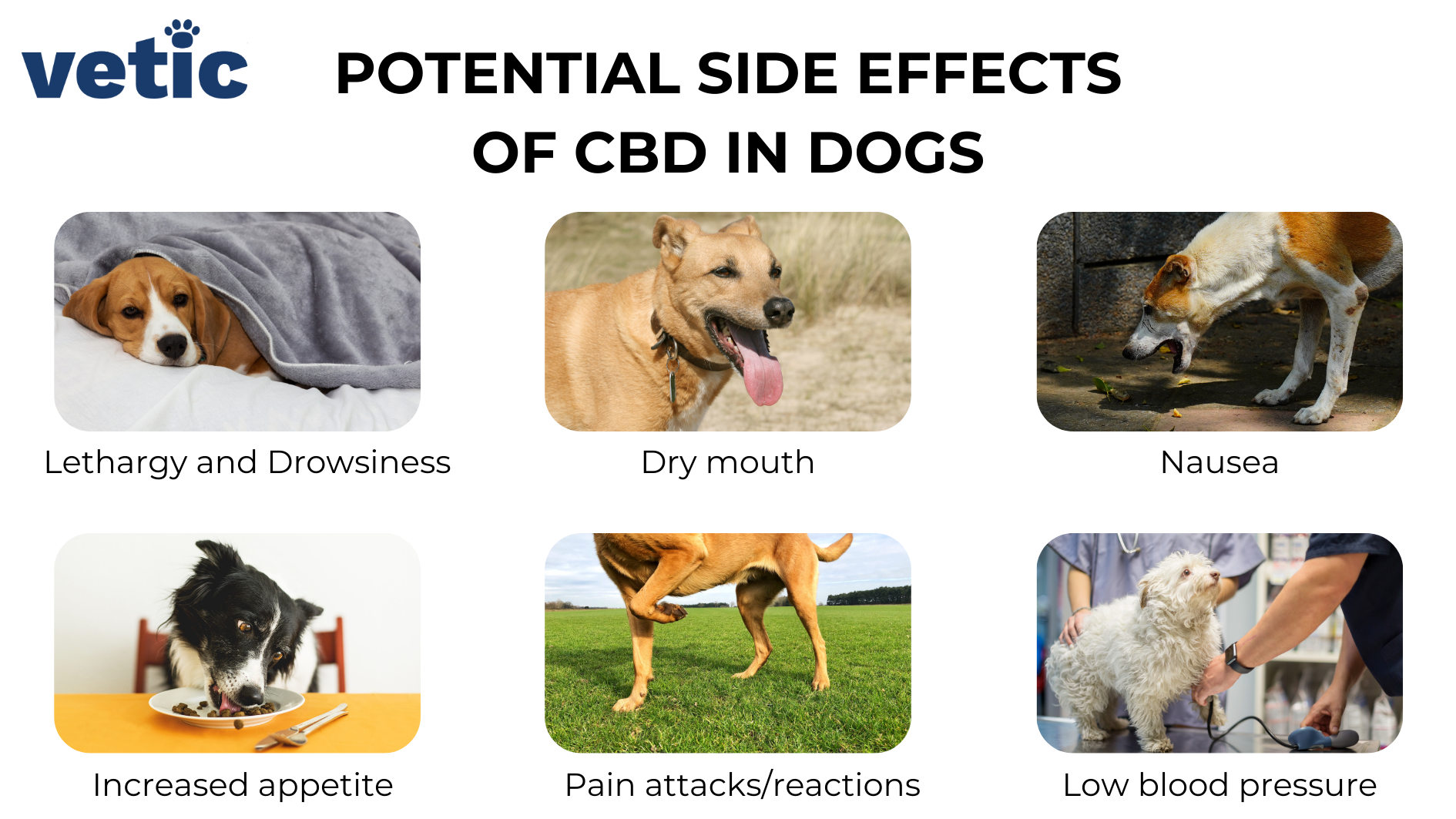 It simply means that CBD oil can affect your dog's health if they are already on medicines and other supplements. Data on the interactions between CBD and other medications in dogs is limited. 
Side effects of CBD oil in dogs may include –
Lethargy 

Drowsiness 

Dry mouth

Nausea 

Increased appetite 

Pain attacks/reactions

Low blood pressure
Always stay in touch with a veterinarian near you when you begin giving CBD supplements to your dog.
What are the Signs of CBD Toxicity in Dogs?
Prominent signs of CBD toxicity and side effects in dogs are –
Diarrhoea

Vomiting

Unusual heart rate (slow or fast)

Restlessness or lethargy

Pale mucous membrane
Although uncommon, CBD toxicity or adverse effects do occur in some dogs. Medicinal properties of CBD do not override the adverse effects of CBD in dogs. 
Side effects of CBD or toxicity can be managed and reversed if treated promptly. Take your dog to the emergency vet clinic near you for immediate treatment. 
Can You Give CBD Oil for Seizure to Your Dog?
CBD oil can help reduce the frequency and duration of seizures in dogs.
In a study conducted by Colorado State University (CSU), veterinarians showed that 89% of the dogs receiving CBD supplements for seizures had fewer episodes as compared to the control group dogs (who did not receive CBD supplements). 
It should be noted that the CBD supplements for epilepsy in dogs were given in addition to the regular epilepsy medication. The veterinarians do not recommend taking your dog off conventional seizure meds while adding CBD oil. 
However, multiple studies have failed to reach any conclusion about the long-term effects of CBD in epilepsy treatment. There is no guideline in terms of safe dosage and data on its interaction with other seizure meds. So, always talk to your veterinarian before you give any CBD oil to your dog for seizures.
Can You Give CBD Oil for Pain to Your Dog?
CBD oil is being used to treat chronic pain in dogs in the US. Many dogs are responding positively to this alternate therapy.
The very first study conducted on the effectiveness of CBD in veterinary medicine was on pain management in dogs. The study by Cornell University College of Veterinary Medicine shows that over 80% of the dogs affected by arthritis experienced less pain after CBD supplements.
However, the study used a very high dose of CBD and there are significant concerns about the long-term safety of CBD in dogs. CBD for chronic pain in dogs is an option only if your dog isn't responding to conventional medicine and physiotherapy. 
Joint pain and arthritis often responds to anti-inflammatory meds and supplements, omega-3 fatty acid, chondroitin and glucosamine supplements, joint health food/diet. 
Can CBD Reduce Aggression in Dogs?
Studies show that CBD oil can reduce fear-based aggression in dogs.
CBD oil can calm dogs down. CBD supplements for dogs can reduce aggression. However, if you can give your dog behavioural training and obedience training, that's highly recommended. 
You should only use CBD in treating aggression in dogs only if you have tried conventional methods and they have not worked.
Can CBD Oil Reduce Anxiety in Dogs?
CBD oil can reduce separation and social anxiety in dogs.
Several dogs suffer from separation anxiety and travel anxiety. Your dog may be one of them. If you have tried training and calming supplements for your dog already, and none of them have worked, you can try CBD oil for calming your dog. 
However, you should always speak to your veterinarian about other available options before going with CBD. There are very few studies that confirm the effectiveness of dog CBD supplements in treating anxiety. The dose of CBD for anxiety in dogs is not confirmed in any study.
What is the Ideal Dose of CBD for Dogs?
Multiple sources (mostly manufacturers) recommend various doses of CBD oil for dogs. Although studies show that CBD reduces pain, seizures and behavioural issues in dogs, none of the studies have published a safe CBD dose for dogs. 
The ideal dose of CBD for seizure, arthritis, anxiety or aggression treatment have not been standardised. Hence, stick to the vet-recommended dose of CBD and monitor your dog closely for any CBD toxicity or side effects. 
Why is CBD NOT Used Extensively in Veterinary Medicine?
The medical effects of CBD seem like a ray of hope for thousands of pet parents, but the research on CBD supplements for dogs is very limited and inconclusive. 
We may have to wait for a couple of years before we receive a conclusive report on the dose, interactions and side effects of CBD in vet medicine.